Danish History and Culture - Valley of the Norwegians
This activity group focuses on discovering the history, people and culture of Denmark.
Fredensborg Castle is the preferred summer residence of Denmark's Queen Margrethe II. The history of the Castle goes back to the early 1700's and Fredensborg is known for its exceptional gardens. We will walk through them with extra emphasis on an area known as The Valley of the Norwegians. There will be a chance for refreshments in the wonderful Fredensborg Store Kro at the end of our visit.
When:          Sunday, June 18 at 14:00 to 16:00
Where:         Fredensborg Castle in Fredensborg, Denmark
Meeting at the lobby of of Fredensborg Store Kro: Slotsgade 6, Fredensborg
https://map.krak.dk/m/3I1VX   
Topic:          Fredensborg Castle- Valley of the Norwegians
Cost:           100 kroner
RVSP:         Payment by June 14 to Danske Bank: Reg. nr. 3106 Konto nr. 4646 0920 35 or Mobilepay to Jonelle is required to confirm participation. Contact info: Jonelle Lemcke, fawco@awcdenmark.org

LIMITED TO 20 PARTICIPANTS
Come with your own packed lunch and beverage.
AWWC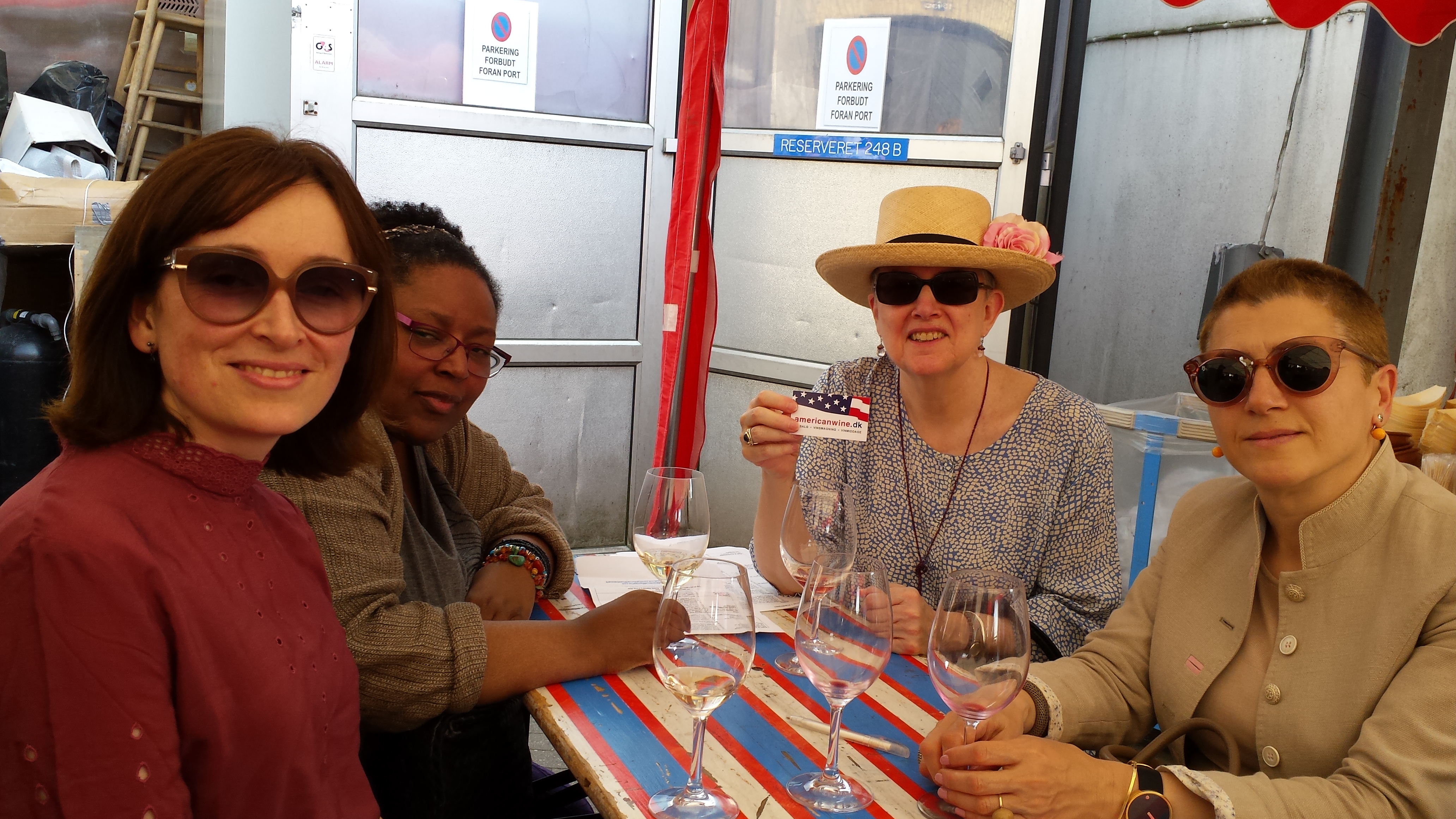 Wine Tasting Event in May
No it isn't a spelling mistake! It is the newly founded American Women's Wine Club special interest group. Our last meeting was the California Wine Festival in Kødbyen. We were eight tasters, enjoying the large variety of CA wines available to sample and purchase at reduced prices for the festival. There was also grill food and many declared the potato salad the best they ever tasted. Great wines, food and sunshine, what more could you wish for...
We decided to share some of our favorite wine picks:
Rabbit Ridge Winery was a favorite choice for many of their wines on offer, avg price 80 kr.
Black Stallion's Chardonnay, 265 kr. Liberty School's Chardonnay. Sincere Red, Napa Pinot Noir, which is a 6 star wine at 150 kr.
Informal wine tasting of selective Irma's wines will be at the AWC June 1st Mumbai Murmurs reception.
The next AWWC event is on Wednesday, June 21 at 16:00 – 20:00 where American Wine will be pouring 16 -20 sparkling wines and the famous Charles Smith, from Washington State will be there. I have had the pleasure of tasting these wines and can highly recommend them. It will be hosted by Husted Vin, in Kødbyen, Kbh V. The cost will be 250 kr. which includes grill food.
Space is limited; as they are reducing the numbers of attendees. So you need to RSVP and pay to AWC's bank account without delay if you want to attend. RSVP to awcbazaar@gmail.com including your name and a mobile tel. number.
Theater/Films/Performance in English
Danish on a Sunday
Danish film hits with English subtitles are shown twice a month* at the Danish Film Institute (Cinemateket) Gothersgade 55, 1123 Kbh. K. Full details here: http://www.dfi.dk/Filmhuset/Cinemateket/danish.aspx.
Before the screening, there is a special offer of a coffee with Danish pastry (or a piece of cake) at Restaurant SULT. It costs only 40 DKK extra.
Sunday, June 11 at 14:15     Small Town Killers               (Dræberne fra Nibe)       
Sunday, June 25 at 14:15     Darkland                               (Underverden)