AWC Fundraising Success in 2016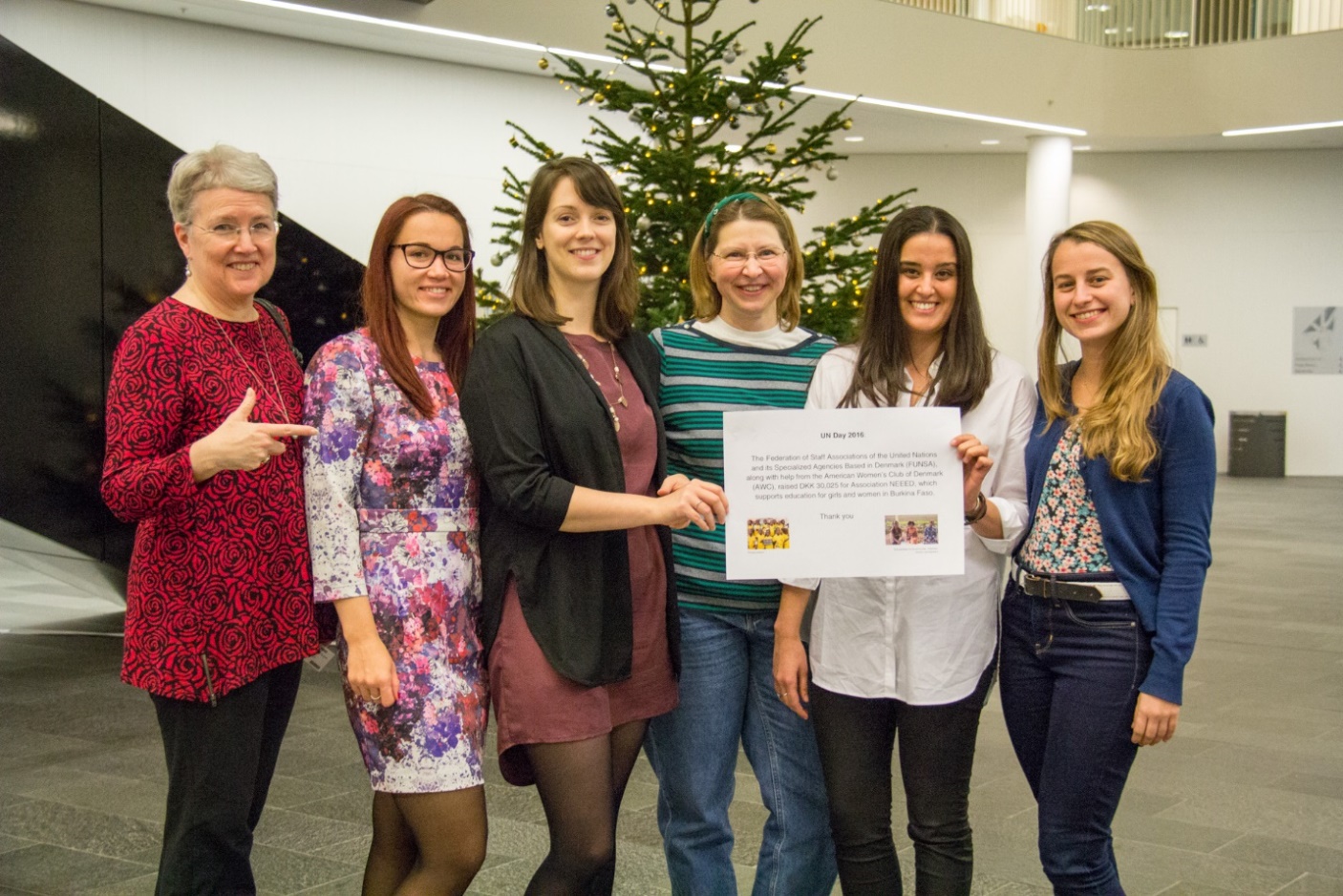 AWC member (and former UN staff member) Mary Stewart Burgher,
with UN Day coordinators at UN City, December 2016
As usual, AWC spent much time and effort in 2016 raising money and securing in-kind donations for the charitable projects we support. Thanks to all members who donated time, saleable goods, toiletries and clothing that we could give to others. Final figures are still coming in (to be revealed at the Chinese New Year lunch on 29 January), but here are a couple of numbers.
First, much helped by the mini-bazaar in October and a range of opportunities to sell holiday jewelry in December, Mary Stewart Burgher reports that sales of books/movies/music and holiday jewelry raised over DKK 8,000, which will be split between Christian's Safe House (https://www.facebook.com/SafeHouseCopenhagen/ )for trafficked women and the Sisters' soup kitchen in Nørrebro.

Second, and even better, we have found out the total amount raised by AWC's cooperation with the staff associations of the United Nations agencies in Copenhagen. Hold on to your hats: the UN Day celebration in October 2016 raised a total of DKK 30,025. The money has already been sent to Association NEEED, which supports girls' and women's education in Burkina Faso. AWC has supported NEEED since 2007, and FAWCO donated annual amounts for six years, ending in 2016, (as FAWCO will soon select a new education project to be the focus of its target program).

For an overview of NEEED's work (in French), see its website (http://www.neeed.org/); information in English is available on the website of the friends of Burkina Faso (http://www.friendsofburkinafaso.org/projects/neeed). AWC's share of the total came from sales of the books in our storage room (incidentally reducing the amount we have to pay to store) and from sales of jewelry by Cyntheia Singleton. Mary Stewart sends grateful thanks to the AWC members (and their children) who gave vital help as eager UN staff scooped up piles of books!

What can you do to follow up this success? Continue to give time and donations to support AWC's charitable work. We need good-quality winter outerwear, now, for Christian's safe house and the homeless clients of the sisters' soup kitchen, and we need donations year-round of books, movie, music, games and good-quality clothing and accessories for AWC to sell. Contact Mary Stewart Burgher (30506356: emessbe@yahoo.com) to arrange delivery/collection.
Thanks for all you did in 2016! Let's do better in 2017!
AWC Denmark sponsors two orphans in Kenya
Vision Peoples Mission, Kenya – Report from "our orphans"
Xmas greetings from Vision Peoples Mission, Kenya, situated in the Nairobi slums, which run a program that provides orphans with education and medical care. AWC has been supporting two orphans, who live with foster families. I recently received their school grades and both of them are above average in their classes. Parvaneh, an AWC member, has written several encouraging letters to our "children".
We invite all our members and their families to write and send words of encouragement (and small gifts, if you desire). For children, growing up without parents, these letters validate their existence and give them courage to persevere. Write to awcbazaar@gmail.com for their address.
Below is an email from the matron in charge of the orphans.

Dear AWC,
We thank you for your Christmas card that you sent to Karen and Erickson.
The card was lovely and both Karen and Erickson were very excited to receive such a beautiful gift from you this Christmas. Thank you for your prayers and support to these destitute children.

May your New Year be peaceful, joyful and blessed. Pass our sincere gratitude to Parvaneh and members of AWC.

Yours grateful
Mrs Dorine Ngesa
MATRON

Find more about VPM activities at http://www.visionpeoples.co.ke/index.htm
Jewelry Donations
Cyntheia Singleton, our dedicated jewelry saleswoman would like to remind all our members once again to go through their jewelry to see if you have anything that is not being worn any longer and which you would like to donate to our fundraising efforts. Cyntheia's constant efforts with the sale of jewelry at our meetings and other events provide the club with a steady trickle of funds that we can pass on to our chosen charities.
So take a look through your drawers, treasure chests and cubby holes to see if something you've tired of needs a new enthusiastic owner!