Help Wanted: Volunteers needed to help out with AWC events
For our 5th of July barbecue, we need volunteers to help set up before the event and clean up afterwards.
Breaking news: AWC will be selling books at the St Albans Church Fete on Saturday, 31 August!
Be sure to advertise the event to interested people, and attend yourself for fun and bargains that will raise money for AWC charities and St. Albans Church.
Mary Stewart Burgher will be running the AWC area, and needs volunteers to help her bring down donations from her flat to the ground floor of her building (Thursday, 29 August) and help with set up, sales and closing up at the end of the day during the Fete itself (31 August).
If you are willing to help with either of these events, contact Mary Stewart Burgher (30506356, emessbe@yahoo.com) right away!
Fundraising News 2018 – results so far
AWC Denmark had great fundraising results at the end of 2018!
Our holiday party in December wrapped 161 gifts for people in need, supplied Christian's Safe House with a trailer-full of clothing and sent a Christmas card and gifts to the two orphans we support at Vision Peoples in Mission in Nairobi, Kenya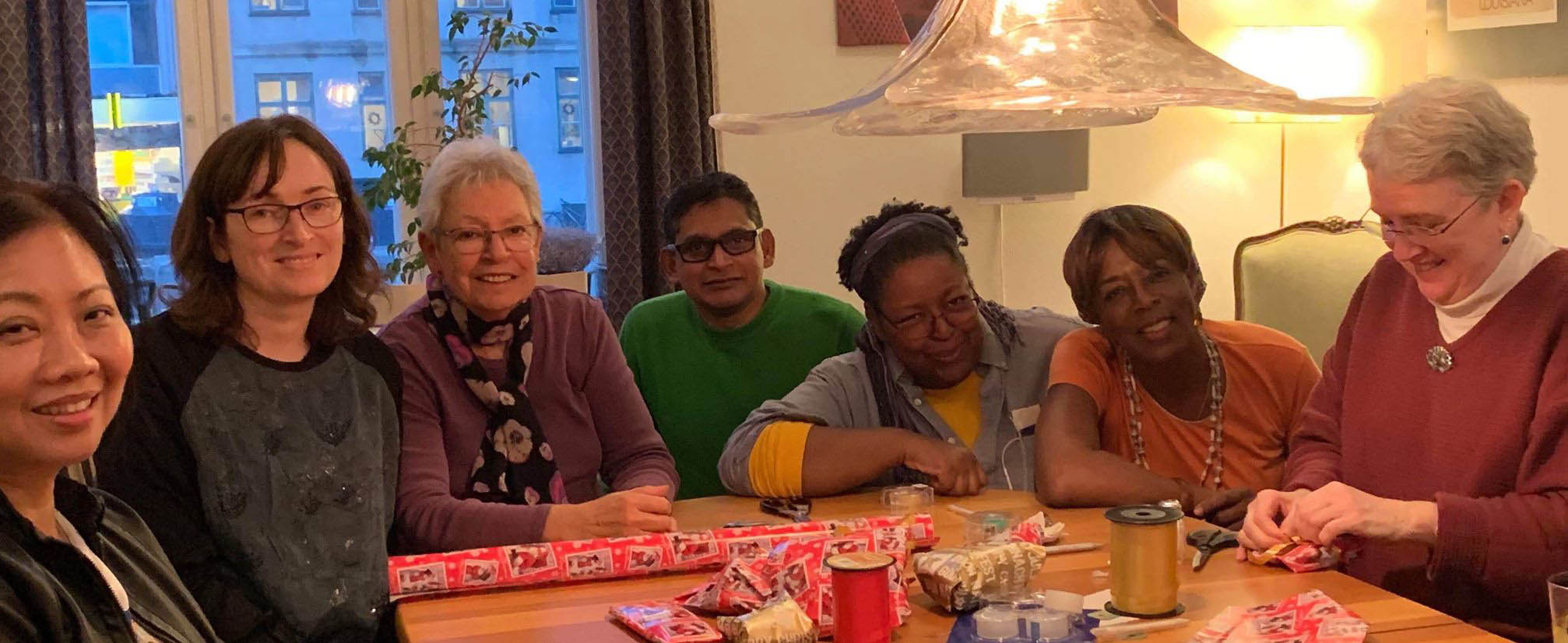 .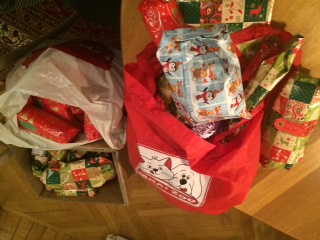 Mogens (Christian Safe House) came with a trailer to collect everything.  Between the donations that have been collected throughout the year and the Xmas gifts, he drove off with a full trailer and car. Many thanks from Christian Safe House!
As to our sales of holiday jewelry, we raised €230 for the FAWCO Target Program – Hope Beyond Displacement (Building better futures through education, vocational and leadership training for refugee women and girls in Jordan) – and raised a further DKK 3,800 for own local charitable projects at sales in Copenhagen. Final financial details will be available next month, but AWC made the holidays happy ones for many people!
The Talented Women's Group in Ghana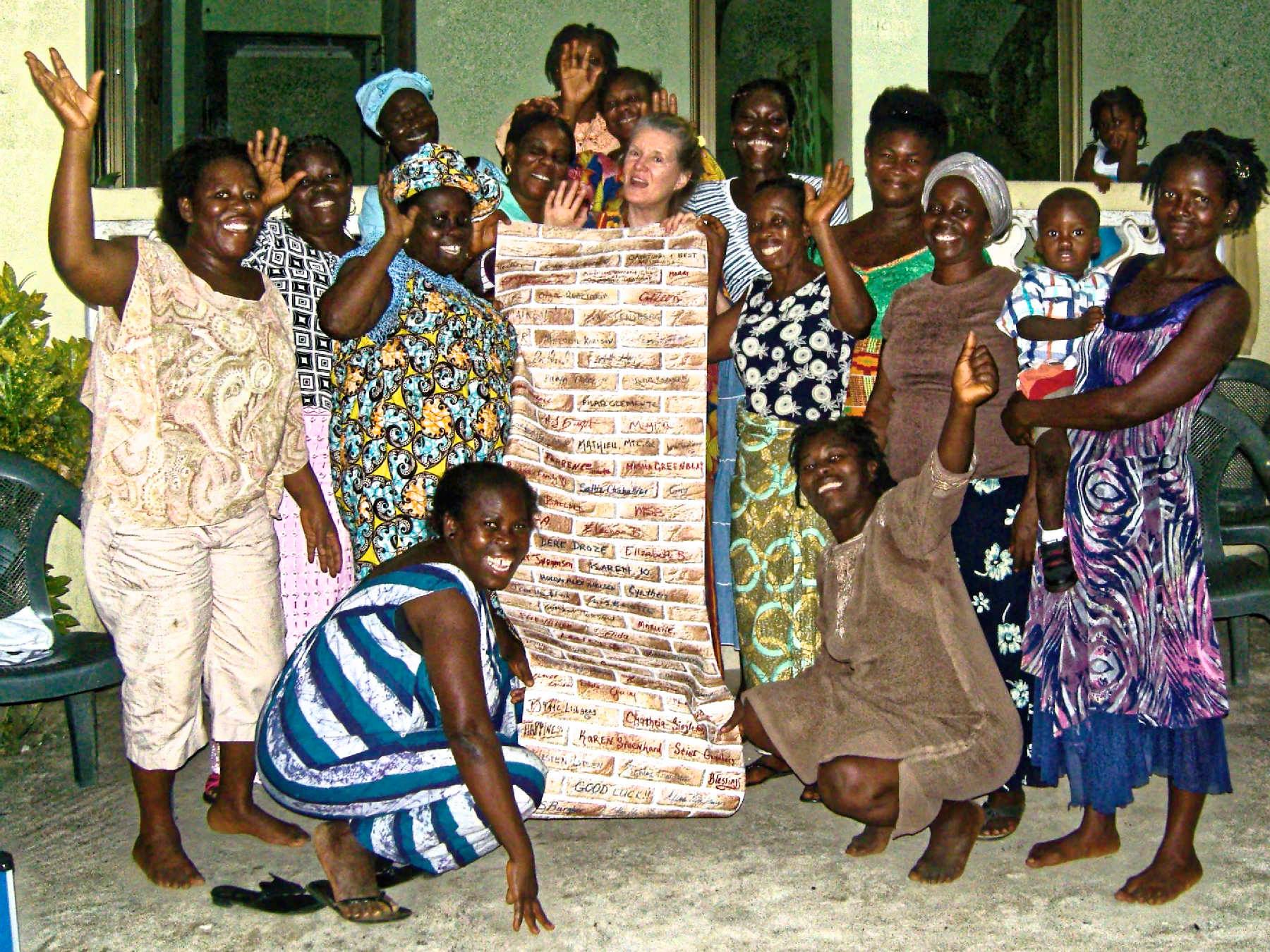 The photo shows AWC member, Amy Faircloth, presenting the wallpaper wall to the Ghanian Talented Women's Club. Donations were collected from AWC members who bought and signed "bricks" for the wall. The purpose of the wall is to protect the women's property rights and secure the TWC farm from encroachment. It is unusual for women in Ghana to own land and for women to own and farm land collectively is almost unheard of, making them potentially vulnerable. The rule of law is not strong and many times people buy property only to find others building on it. Sometimes overnight! It is then difficult to evict them.
The farm has produced crops of chili, groundnuts, beans, corn and cassava. A rabbit production began this month and they hope to be able to finance chicken production in the future. For the past several years, they have collaborated with Global Nutrition and Health which has sent bachelor students to do research with the TWC. Students found all manner of nutritional deficiencies in the group. Information about healthy food practices and fresh produce from the farm helps alleviate some of these problems. The good health of the women and their families is ultimately connected to the wall.
They also hope to develop an educational model for teaching about nutrition and health that can easily be transferred to other women's groups in the area. This is a work in progress.
Amy sends us the women's many thanks for our support and says that they need all the help they can get!
AWC Denmark sponsors two orphans in Kenya
Vision Peoples Mission, Kenya – Report from "our orphans"
Xmas greetings from Vision Peoples Mission, Kenya, situated in the Nairobi slums, which run a program that provides orphans with education and medical care. AWC has been supporting two orphans, who live with foster families. I recently received their school grades and both of them are above average in their classes. Parvaneh, an AWC member, has written several encouraging letters to our "children".
We invite all our members and their families to write and send words of encouragement (and small gifts, if you desire). For children, growing up without parents, these letters validate their existence and give them courage to persevere. Write to awcbazaar@gmail.com for their address.
Below is an email from the matron in charge of the orphans.

Dear AWC,
We thank you for your Christmas card that you sent to Karen and Erickson.
The card was lovely and both Karen and Erickson were very excited to receive such a beautiful gift from you this Christmas. Thank you for your prayers and support to these destitute children.

May your New Year be peaceful, joyful and blessed. Pass our sincere gratitude to Parvaneh and members of AWC.

Yours grateful
Mrs Dorine Ngesa
MATRON

Find more about VPM activities at http://www.visionpeoples.co.ke/index.htm
Jewelry Donations
Cyntheia Singleton, our dedicated jewelry saleswoman would like to remind all our members once again to go through their jewelry to see if you have anything that is not being worn any longer and which you would like to donate to our fundraising efforts. Cyntheia's constant efforts with the sale of jewelry at our meetings and other events provide the club with a steady trickle of funds that we can pass on to our chosen charities.
So take a look through your drawers, treasure chests and cubby holes to see if something you've tired of needs a new enthusiastic owner!